About Us
Drs. Mike and Lisa Misiak opened Oak Orchard Chiropractic in March 1997. They met while attending Logan College of Chiropractic outside of St. Louis, Missouri. Dr. Lisa then moved to Albion from Illinois where she was practicing as an associate doctor in her hometown. They later purchased the practice from the previous owner that Dr. Mike had been working with as an associate.
Oak Orchard Chiropractic is a home office attached to where Drs. Mike and Lisa live with their three children. They've loved raising their family surrounded by chiropractic, enjoying a healthy and abundant lifestyle.
Wellness and Family Support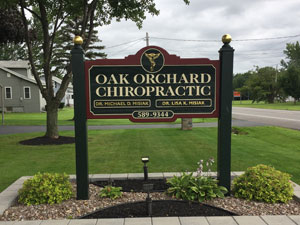 We see patients of all ages, from babies to the elderly. Many people seek out chiropractic care because they're in pain. Once free from discomfort, our patients usually choose to continue seeing us so that they can maintain a higher quality of life, free from injury and illness. You're welcome to become a part of our wellness team or see us on an as-needed basis — we'll work with your individual goals.
Drug-free, Surgery-free Health Care
We're here to support you in your search for health and wellness, giving you the information you need to make the best decision for yourself and your family. There are alternatives to medications, surgery and other avenues that have left you without hope for recovery, and we want to share them with you. After a thorough and detailed examination, we can determine the cause of your problem and the most appropriate treatment. We love to see our patients achieve incredible results!
Contact our chiropractic office today to get started! We offer extended hours for your convenience.
---
Oak Orchard Chiropractic | (585) 589-9344